07 juillet 2014
5 years later - I still love my sheep !!!
As I am struggle with Facebook (I am on dial up and cannot get Facebook to load at home), I remembered that once upon a time, I had a blog. It is moving slow, but at least I can write something (don't know about posting pictures yet).
The flock has slowly grown over the years. We now have 13 shetland ewes, 1 shetland ram, 3 shetland wethers, 5 shetland lambs (1 ewe, 4 rams) and Jamie (Jamie is 1/2 shetland and 1/2 BFL).
I have a new website too: www.laineland.com
20 novembre 2009
I love my sheep!
I've been busy working on my newly opened Etsy shop: http://happyskein.etsy.com
I will keep adding items regularly, as soon as I get pictures taken...
J'ai été occupée à travailler sur ma nouvelle boutique Etsy: http://happyskein.etsy.com
Je continue à ajouter des articles régulièrement, dès que je prends des photos...

But, back to out sheep... So, that's right, I now have four sheep. But they are not just any sheep, they are Shetland sheep! See, I am a Shetland addict; I love spinning Shetland. So far I have been getting Shetland fleeces at the Maryland Sheep and Wool festival from Kathy of Potosi Sheep Farm and it turns out that Kathy lives only about a half hour from here. So when we decided to get sheep, we went to see her and bought those four lambs from her. Kathy is great with sheep... and people!
Mais de retour à nos moutons... Et oui, j'ai maintenant quatre moutons. Mais ce ne sont pas n'importe quelle sorte de moutons, ce sont des moutons Shetland! Vous voyez, je suis accro au Shetland; j'adore filer le Shetland. Jusqu'à présent j'avais acheté mes toisons Shetland au Maryland Sheep and Wool festival chez Kathy de Potosi Sheep Farm et il s'avère que Kathy habite à seulement environ une demie heure d'ici. Alors lorsque nous avons décidé d'avoir des moutons, nous sommes allés la voir et avons acheté ces quatre agneaux. Kathy est formidable avec les moutons... et les gens !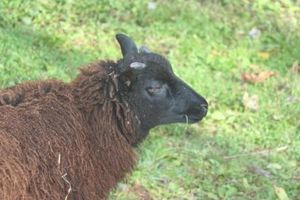 Misha is a bottle baby. He has a little bit of Blue Face Leicester in him (Kathy also raised BFL). He is very friendly and the first one to get into trouble...
Misha a été élevé au biberon. Il a un peu de Blue Face Leicester en lui (Kathy élève également des BFL). Il est très amitieux et est le premier à se mettre dans le pétrin...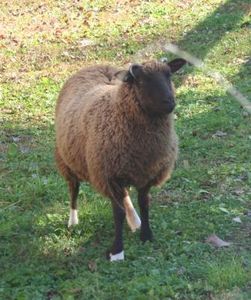 Pollux is dark brown with three white feet and the tip of his tail is also white. He has a very dense fleece, a little shorter than the others.
Pollux est marron foncé avec trois pattes blanches et le bout de sa queue est également blanc. Il a une toison très dense, un peu plus courte que les autres.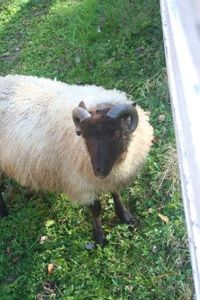 Vincent is the most shy of them all. He is starting to come to me, but still won't really let me pet him. He has a beautiful fleece, too bad I can't touch him more...
Vincent est le plus timide de tous. Il commence à venir à moi, mais il ne me laisse toujours pas vraiment le caresser. Il a une toison magnifique, dommage que je ne puisse pas le toucher plus...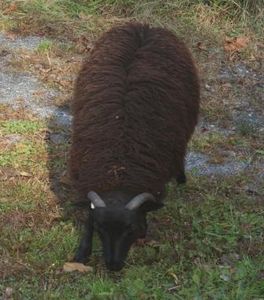 Shadow is probably the boldest of them all (although Misha is not far behind). He is the boss and will let everybody know. But he is very friendly and loves being petted and demands undivided attention. I named him Shadow because he is black, but mostly because he follows me around.
Shadow est sans doute le plus intrépide de tous (bien que Misha n'est pas très loin derrière). Il est le patron et le fait savoir. Mais il est très amitieux et adore être caressé et exige mon attention exclusive. Je l'ai apellé Shadow (anglais pour Ombre) car il est noir, mais surtout parce qu'il me suit partout.

21 août 2009
I'm Baaack !!!!
I can't believe it has been so long since I last posted!
I'm still here! Well, I did move... not very far though, but I'll talk about it later. Right now I can't wait to show you my new babies.
Je n'arrive pas à croire que ça fait si longtemps depuis mon dernier message!
Je suis toujours là! Bon en fait j'ai déménagé... mais pas très loin et j'en parlerai plus tard. Pour l'instant je suis impatiente de vous montrer mes nouveaux bébés.
Yes, of course, we have more kittens...
Oui, bien sûr, nous avons encore des chatons...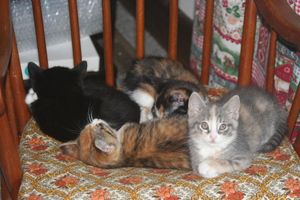 But I am talking about those guys:
Mais je veux dire ceux-ci: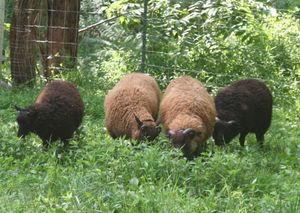 I suppose it was bound to happen...
Je suppose que ça devait arriver...

So let me introduce:
Alors laissez-moi vous présenter:

Shadow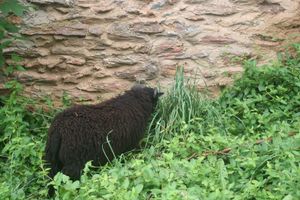 Misha
Pollux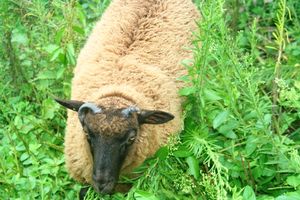 Vincent
04 mars 2008
M&M
M&M is no more. He had disappeared about a month ago and last night ME found his remains. He is now in peace with his brother Mars.
M&M n'est plus. Il avait disparu il y a environ un mois et hier soir ME a trouvé ses restes. Il est maintenant en paix avec son frère Mars.
30 août 2007
Not fast enough - Pas assez vite
Obviously, I haven't been knitting fast enough lately. I ran out of yarn!
I am knitting a square shawl in the round. Sounds suspicious right there, doesn't it? But no, be reassured, it works.
Anyway, I had three balls of yarn for the shawl. Upon finishing the first one, I thought I wouldn't have enough to finish, so I modified the pattern to make it smaller.
Upon finishing the second ball, I started having doubts again; maybe I still wasn't going to have enough. So while knitting the third and last ball, I started knitting faster and faster, glancing more and more often at that ball of yarn which was getting smaller and smaller way too fast!
Well yes, it's like when you're driving and you realize that you are running low on gas. What do you do? You start driving faster so that you can reach the gas station before running out of gas, no?
Same thing here.
Then comes a first phase of denial. If I hide the problem, then it will go away, right? So I put the ball in my knitting bag and stopped looking at it. Ah, much better! And I can knit much faster when I am not constantly staring at the ball! I was going to win the race with the yarn.
But then all a sudden, disaster! There is no more yarn coming out of the bag!
Second phase of denial: there must be a break in the yarn. So begins the frantic search through the bag for the remaining of the ball. But alas, reality must set in, there is no more... I didn't knit fast enough, I ran out of yarn!
I guess I just need to start over and knit faster this time!
Visiblement, je n'ai pas tricoté assez vite dernièrement. Je suis tombée à cours de laine !
Je suis en train de tricoter un châle carré en ronds. Semble suspicieux rien que là, non ? Mais rassurez-vous, ça marche.
Bon, j'avais trois pelotes de laine pour le châle. Après avoir terminé la première, j'ai pensé que je n'aurai pas assez pour finir, alors j'ai modifié le modèle pour le faire plus petit.
Après avoir terminé la deuxième pelote, j'ai commencé à avoir à nouveau des doutes; je n'allais peut-être pas avoir assez après tout. Alors en tricotant la troisième et dernière pelote, je me suis mise à tricoter de plus en plus vite, tout en jetant un coup d'oeil sur la pelote de plus en plus souvent tandis que celle-ci devenait de plus en plus petite bien trop rapidement !
Ben oui, c'est comme lorsque vous conduisez et que vous constatez qu'il ne vous reste que très peu d'essence. Que faites-vous ? Vous commencez à conduire plus vite afin que vous puissiez atteindre la pompe avant d'être à sec, non ?
Même chose ici.
Ensuite vient une première phase de reniement. Si je cache le problème, il va disparaître, pas vrai ? Alors j'ai mis la pelote dans mon sac de tricot et j'ai arrêté de la regarder. Ah, c'est beaucoup mieux ! Et je peux tricoter beaucoup plus vite lorsque je ne suis pas constamment en train de regarder la pelote ! Je vais gagner cette course contre la laine !
Mais tout à coup, désastre ! Il n'y a plus de laine qui sort du sac !
Deuxième phase de reniement: il doit y avoir une cassure dans la laine. Alors commence la recherche effrénée à travers le sac pour le reste de la pelote. Mais hélas, la réalité doit s'imposer, il n'y en a plus... Je n'ai pas tricoté assez vite et je suis à cours de laine !
Je suppose qu'il ne me reste plus qu'à recommencer et à tricoter plus vite cette fois ci !