20 novembre 2009
I love my sheep!
I've been busy working on my newly opened Etsy shop: http://happyskein.etsy.com
I will keep adding items regularly, as soon as I get pictures taken...
J'ai été occupée à travailler sur ma nouvelle boutique Etsy: http://happyskein.etsy.com
Je continue à ajouter des articles régulièrement, dès que je prends des photos...

But, back to out sheep... So, that's right, I now have four sheep. But they are not just any sheep, they are Shetland sheep! See, I am a Shetland addict; I love spinning Shetland. So far I have been getting Shetland fleeces at the Maryland Sheep and Wool festival from Kathy of Potosi Sheep Farm and it turns out that Kathy lives only about a half hour from here. So when we decided to get sheep, we went to see her and bought those four lambs from her. Kathy is great with sheep... and people!
Mais de retour à nos moutons... Et oui, j'ai maintenant quatre moutons. Mais ce ne sont pas n'importe quelle sorte de moutons, ce sont des moutons Shetland! Vous voyez, je suis accro au Shetland; j'adore filer le Shetland. Jusqu'à présent j'avais acheté mes toisons Shetland au Maryland Sheep and Wool festival chez Kathy de Potosi Sheep Farm et il s'avère que Kathy habite à seulement environ une demie heure d'ici. Alors lorsque nous avons décidé d'avoir des moutons, nous sommes allés la voir et avons acheté ces quatre agneaux. Kathy est formidable avec les moutons... et les gens !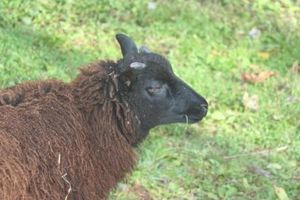 Misha is a bottle baby. He has a little bit of Blue Face Leicester in him (Kathy also raised BFL). He is very friendly and the first one to get into trouble...
Misha a été élevé au biberon. Il a un peu de Blue Face Leicester en lui (Kathy élève également des BFL). Il est très amitieux et est le premier à se mettre dans le pétrin...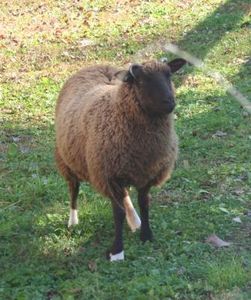 Pollux is dark brown with three white feet and the tip of his tail is also white. He has a very dense fleece, a little shorter than the others.
Pollux est marron foncé avec trois pattes blanches et le bout de sa queue est également blanc. Il a une toison très dense, un peu plus courte que les autres.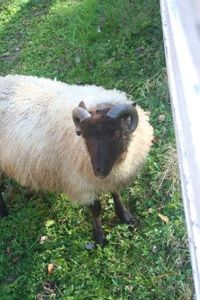 Vincent is the most shy of them all. He is starting to come to me, but still won't really let me pet him. He has a beautiful fleece, too bad I can't touch him more...
Vincent est le plus timide de tous. Il commence à venir à moi, mais il ne me laisse toujours pas vraiment le caresser. Il a une toison magnifique, dommage que je ne puisse pas le toucher plus...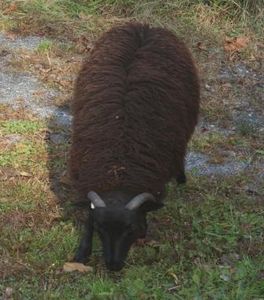 Shadow is probably the boldest of them all (although Misha is not far behind). He is the boss and will let everybody know. But he is very friendly and loves being petted and demands undivided attention. I named him Shadow because he is black, but mostly because he follows me around.
Shadow est sans doute le plus intrépide de tous (bien que Misha n'est pas très loin derrière). Il est le patron et le fait savoir. Mais il est très amitieux et adore être caressé et exige mon attention exclusive. Je l'ai apellé Shadow (anglais pour Ombre) car il est noir, mais surtout parce qu'il me suit partout.